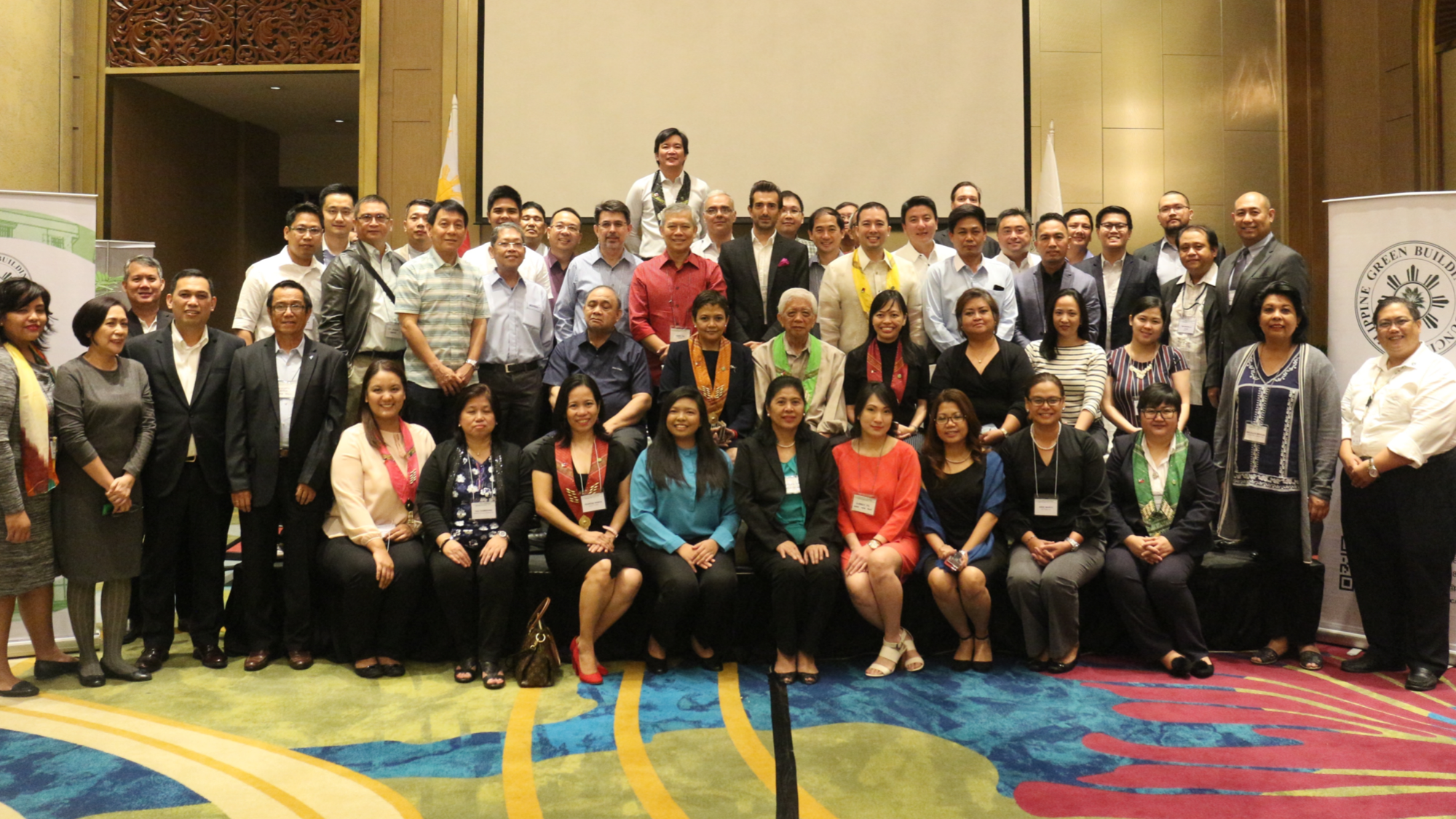 Giving recognition to the milestones of the Philippine Green Building Council for 2016.
TAGUIG CITY – 07 December 2016 – The Philippine Green Building Council (PHILGBC) ended 2016 with the Annual General Membership Meeting (AGM) and Elections Board of Trustees (BOT) last 07 December at the Mayuree II, Dusit Thani Manila, Makati City.
During the meeting, reports from the Chairman, Secretary and Treasurer were presented to the members.
For the Chairman's Report, Ramon Rufino recapped all the activities and programs accomplished by the PHILGBC in 2016. This includes updates on BERDE, partnerships donor agencies and government, activities with the youth, the annual BG Conference – BG2016, participation in international activities and membership meetings among others. Rufino particularly highlighted the PHILGBC's Established Membership Status to the World Green Building Council.
[E]stablished Member is the highest possible level of membership at the World Green Building Council, what it means is that we as a council over the years have developed enough momentum in terms of our systems, procedures, and our structure in terms of our advocacy, to be able to qualify for Established Member status. This is also important because this allows us a seat on the discussions at the World Green Building Council level for global programs and initiatives to push green building and sustainability across various real estate sectors, across the globe.
In the Secretary's Report, Emma Topacio recognized PHILGBC's Corporate Sustaining Members, as well as the number of good standing members and new individual and corporate members. Lastly, in the Treasurer's Report, Michael Reyes provided a breakdown of finances of the council for 2016.
During the Members' Hour, Ayala Land Inc. shared their sustainability program to the membership.
The Elections of the Board of Trustees for 2017-2018 was facilitated by PHILGBC COMELEC Chairman Atty. Saviniano M. Perez, Jr. Two newly-elected members of the BOT are:    
  1. Jeroen Van Straten, Chief Executive Officer. Air & Odor Management representing the Manufacturers and Suppliers category.
2. Francisco Arellano, SAVP, Head – Corporate Quality Environment, Safety and Healthy, Maynilad Water Services Inc. representing the Contractors and Specialty Trade Contractors category.
Ramon D. Rufino, Co-President, The Net Group was re-elected to the BOT. He represents the Property Developers, Owners, and Brokers category.
The 2017-2018 PHILGBC BOT are as follows:
1. Ramon Rufino (Chairman of the Board)
2. Rowena Ramos (Board Secretary)
3. Edgar Sabidong (Treasurer)
4. Emma Topacio
5. Elizabeth Rabuy
6. Jeroen Van Straten
7. Melecio Vicencio
8. Gil S. Cruz Jr.
9. Francisco Arellano
10. Gabriel Cascante
11. Engell Fagaragan 
Certificates of Recognition were awarded to the PHILGBC Silver Sustaining Corporate Members.
Co-Organizers of the AGM and Elections:
– The Net Group,      PHILGBC Diamond Sustaining Corporate Member
– Ayala Land, Inc.,     PHILGBC Regular Corporate Member
For more details you may go to http://agm-elections2016.philgbc.org/