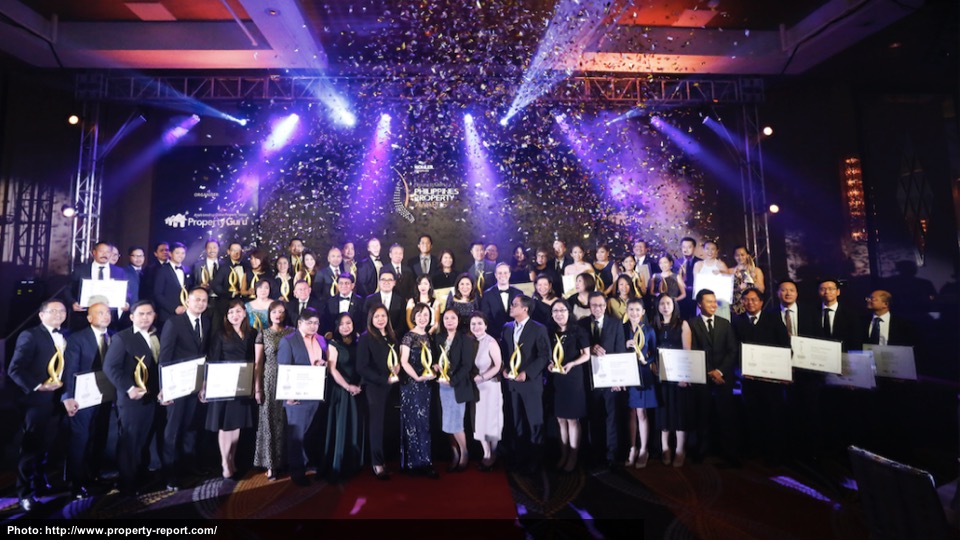 The Philippine Green Building Council would like to commend and recognize its corporate members along with Megaworld Corporation and Robinsons Land Corp who proved their leadership and excellence during the PropertyGuru Philippines Property Awards 2017 last May 4 2017. This is the country's most prestigious awarding ceremony in the building industry. The PropertyGuru Philippines Property Awards is part of the regional Asia Property Awards program established in 2005
One of the highlights of the event was when Robinsons Land Corp. president and COO Frederick Go has been named as the Real Estate Personality of the Year as chosen by the editors of Property Report Magazine.
Robinsons Land also received the Best Residential Interior Design award for The Sapphire Bloc mixed-use condominium development in Ortigas Center, Pasig City; Best Residential Architectural Design – Highly Commended award for its Radiance Manila Bay condominium project in Roxas Boulevard; and the Best Retail Development award for its Robinsons Galleria Cebu Mall in Cebu City. The company also received two special recognition awards, Sustainable Development as well as in Corporate Social Responsibility.
Megaworld Corporation has set a record by being the Best Developer of the Year for two (2) consecutive years now and bagging 8 major awards and 17 highly commended citations namely:
Best Universal Design Development;
Best Office Development Award for Alliance Global Tower;
Best Mixed Use Development Award for 8 Forbes Town Road;
Best Residential Landscape Architectural Design Award for The Florence; and
Best Retail Landscape Architectural Design Award for Uptown Mall;
Best Residential Architectural Design Award for One Uptown Residence and
Highly Commended for One Eastwood Avenue and One Pacific Residence;
Best Retail Architectural Design Award for Uptown Mall
Special Recognition in Corporate Social Responsibility;
Highly Commended for The Florence and St. Moritz Private Estates under Best Luxury Condo Development (Metro Manila) category;
Highly Commended for 8 Forbes Town Road and One Eastwood Avenue under the Best High End Condo Development (Metro Manila) category; and
Highly Commended for One Pacific Residence under the Best Condo Development (Cebu) category.
Highly Commended for Tower One Plaza Magellan under the Best BPO Office Development category;
Highly Commended for Uptown Mall and Venice Grand Canal under the Best Retail Development category; and
Highly Commended for St. Moritz Private Estates and Three Central for Best Residential Interior Design;
Highly Commended for Venice Grand Canal Mall for the same category;
Highly Commended for Alliance Global Tower under Best Office Architectural Design;
The main category winners are advancing to the seventh annual PropertyGuru Asia Property Awards grand final in Singapore this November at the Sands Expo and Convention Centre, where they will compete with 15 other markets in the region and be crowned the "Best in Asia"
PHILGBC is gratified to work with people who deliver their promises in building better places for the community.  The Council is proud to acknowledge the following established and emerging corporate members who were recognized during the PropertyGuru Philippines Property Awards:
DEVELOPER

Best Developer
Winner:
Best Boutique Developer
Winner:
BEST OF THE BEST
Best Green Development
Winner:
ArthaLand Century Pacific Tower by ArthaLand
Best Universal Design Development
Winner:
St. Moritz Private Estates by Megaworld Corporation
SPECIAL AWARDS
Special Recognition in CSR
Winners:
ArthaLand Corp
Century Properties Group Inc
Megaworld Corporation
Robinsons Land Corporation
 Special Recognition in Sustainable Development
Winners:
ArthaLand Corp
Robinsons Land Corporation
DEVELOPMENT CATEGORIES (RESIDENTIAL)
Best Luxury Condo Development (Metro Manila)
Winner:
The Royalton at Capital Commons by Ortigas & Company
Highly Commended:
Acqua Livingstone interior design by MissoniHome by Century Properties Group Inc
St. Moritz Private Estates by Megaworld Corporation
The Florence by Megaworld Corporation
Best High End Condo Development (Metro Manila)
Highly Commended:
8 Forbes Town Road by Megaworld Corporation
One Eastwood Avenue by Megaworld Corporation
Solstice by Alveo Land Corporation
 Best Affordable Condo Development (Metro Manila)
Winner:
Casa de Sequioa by Keyland
Best Condo Development (Cebu)
Highly Commended:
One Pacific Residence by Megaworld Corporation 
DEVELOPMENT CATEGORIES (COMMERCIAL) 
Best Office Development
Winner:
Alliance Global Tower by Megaworld Corporation
Highly Commended:
ArthaLand Century Pacific Tower by ArthaLand
Best BPO Office Development
Highly Commended:
Southkey Hub by Keyland
Tower One Plaza Magellan by Megaworld Corporation
Best Retail Development
Winner:
Robinsons Galleria Cebu by Robinsons Land Corporation
Highly Commended:
Uptown Mall by Megaworld Corporation
Venice Grand Canal Mall by Megaworld Corporation
Best Mixed Use Development
Winner:
8 Forbes Town Road by Megaworld Corporation
DESIGN CATEGORIES
Best Residential Architectural Design
Winner:
One Uptown Residence by Megaworld Corporation
Highly Commended:
One Eastwood Avenue by Megaworld Corporation
One Pacific Residence by Megaworld Corporation
The Radiance Manila Bay by Robinsons Land Corporation
Best Residential Interior Design
Winner:
The Sapphire Bloc by Robinsons Land Corporation
Highly Commended:
St. Moritz Private Estates by Megaworld Corporation
Three Central by Megaworld Corporation
Best Retail Architectural Design
Winner:
Uptown Mall by Megaworld Corporation
Highly Commended:
Venice Grand Canal Mall by Megaworld Corporation
Best Office Architectural Design
Winner:
ArthaLand Century Pacific Tower by ArthaLand
Highly Commended:
Alliance Global Tower by Megaworld Corporation
Best Residential Landscape Architectural Design
Winner:
The Florence by Megaworld Corporation
Highly Commended:
One Pacific Residence by Megaworld Corporation
One Uptown Residence by Megaworld Corporation 
Best Office Landscape Architectural Design
Highly Commended:
Alliance Global Tower by Megaworld Corporation
Best Retail Landscape Architectural Design
Winner:
Uptown Mall by Megaworld Corporation 
PUBLISHER'S CHOICE
Real Estate Personality of the Year
Winner:
Frederick D. Go, President, Robinsons Land Corporation
List Source: https://business.inquirer.net/228868/propertyguru-philippines-property-awards-2017-winners-hope-green-future