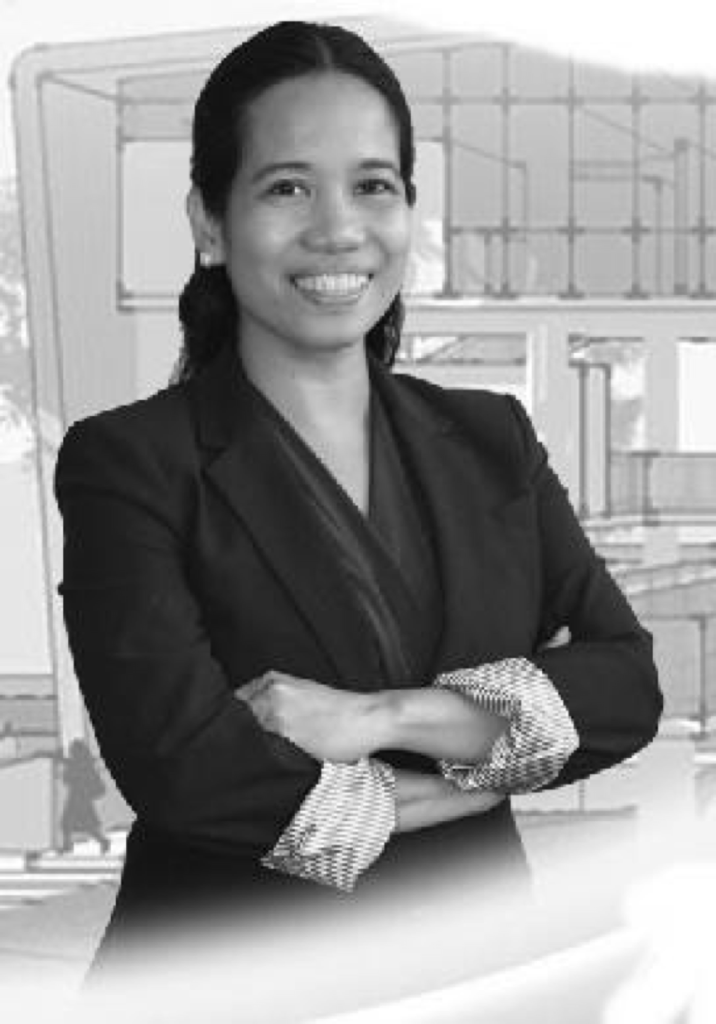 ROWENA CANLAS RAMOS is a Registered Architect and Leader in the promotion of the National Voluntary Green Building Rating System BERDE. She is a Certified BERDE Professional (CBP) since 2011 and is handling several BERDE Registered Projects. She completed the BERDE Assessor Training in the same year after qualifying as a CBP.
She is one of the founding members and volunteer of the Philippine Green Building Council (PHILGBC). In 2009, she became a Fellow of the Asia-Pacific Green Building Leadership Program of the Australian Leadership Awards Fellowship (ALAF).
In 2013, she was elected as a member of the PHILGBC Board of Trustees to represent the Individual, Academe and Civil Society Network.
She served as the Chairperson of the BERDE Review Committee of the PHILGBC and worked for the Philippine Energy Efficiency Project (PEEP) of the Department of Energy (DOE) in partnership with the Council.
In 2014, as President of Ecotektonika she was again elected to serve for three (3) years representing the Building Professionals and Service Providers.
She served as the Chair for the National Convention Committee for 2014, 2015 and 2016 and organized the flagship annual green building conference of the PHILGBC, Building Green Conference.
Currently, she is the Chair of the BERDE Committee which focus is the technical development of the Philippine's National Voluntary Rating System.
She led the Ecotektonika Team in the delivery of Ecologically Sustainable Design (ESD) of the first ever government building, Laguna Lake Development Authority Building, to be awarded BERDE 3-Star under New Construction.
She recently completed her work as a Consultant of the Climate Change Commission for the UN Environment project for the country assessment of Nationally Appropriate Mitigation Actions (NAMA) for the Building Sector.
She served as the Principal Consultant for the development of the Green Masonry Module of the International Labor Organization in partnership with the Association of Construction and Informal Workers (ACIW). She was also involved in the delivery of the Zero Carbon Resorts in Palawan as part of the PHILGBC Team of Experts.
She has served the United Architects of the Philippines (UAP) as an Adviser of the UAP-Student Auxiliary and as a member of the organizing committee both for UAP National Convention (NatCon) and Convention Exhibit (CONEX). She is the first lady member of the UAP-Manila Maharlika to be elected as Chapter President and served for two consecutive terms.
With 18 years of diverse practice in design and planning, project coordination and management, she is carving a niche for Ecotektonika in the Sustainability Practice and BERDE Management.