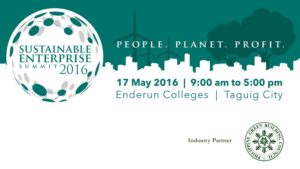 Register Now and Be Part of the Sustainable Enterprise Summit 2016
The Philippine Green Building Council invites you to the Sustainable Enterprise Summit organized by Enderun Extension and JCI Manila from 8:00 AM to 5:00 PM on May 17, 2016 at the Tent of Enderun Colleges.
All over the world, companies are integrating principles of sustainability in their management strategies, product designs, facility construction and operations, personnel development, and community engagement, in response to the global call for sustainable development. Following the "People. Planet. Profit." theme, this summit aims to encourage more businesses to engage in sustainable practices while maintaining their profitability by helping protect the environment and improve the lives of society. 
This summit will be a live forum where summit delegates will hear from some of the top corporations in the country like Ayala Land, Megaworld Corporation, Holcim, Human Nature, and others regarding their strategies and challenges, and the inspiring success stories in their respective sustainability journeys. Participants will also learn from industry experts who are in the fields of clean fuels and renewable energy like First Environtech Alliance Corp, Hystra, and others about the most current industry trends and innovative technologies as well as learn more about the progression in green buildings and sustainable communities. Topics such as corporate social responsibility, sustainability strategies, industry trends, sustainable best practices in the corporate sector, establishing a business with a purpose, and the ins and outs of social entrepreneurship will be discussed.
Regular rate of PhP2,800. For the schedule, registration, and other information, you may refer to the website, www.sustainabilitysummit.ph. Please indicate that you are a member of the PHILGBC when you register.