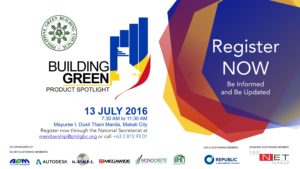 Dear Fellow Green Builder,
Need help in crafting your specs sheet? Are you wondering which among current green building tech is most cost efficient? Let us help each other out.
Building Green, our signature event, the pioneer in green building education and trade promotion, will be presenting current best practice and technologies that help shape the market today.
As we together transform the green building market place, we need to continually connect, strategize and innovate. Be there, let's exchange notes, and grow our green building businesses.
An assessment fee of Php 1,750.00 will be collected to our members. Member-endorsed guests will be charged Php 2,200.00. Non-PHILGBC members will be charged the regular rate (Php 2,800.00).
For more information please contact the National Secretariat at +6328159301 or send an email to secretariat@philgbc.org.
Together let's inspire confidence and build trust in the green building marketplace.