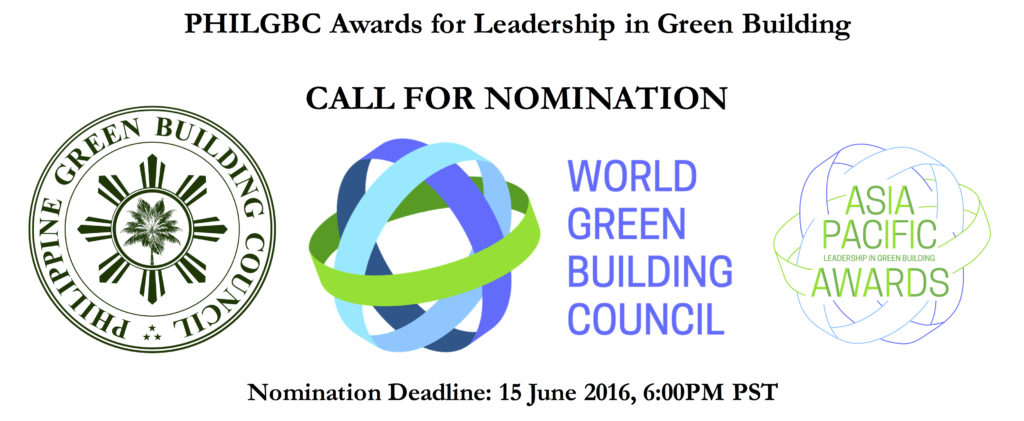 Taguig City – June 2016 – Be Recognized as a Leader on Green Buildings in the Philippines and Asia Pacific. Tell the world how your business is leading on green buildings. Join now and submit your nomination for the PHILGBC Awards for Leadership in Green Building.
The PHILGBC Awards on Leadership in Green Building are designed to showcase and celebrate the achievements of movers in the building and construction industry in the country, and to highlight their green building leadership both locally and internationally.
Winners from the PHILGBC Awards on Leadership in Green Building will be the country's representative to the 2nd World Green Building Council-Asia Pacific Networks' (WorldGBC-APN) Leadership in Green Building Awards. PHILGBC Chairman, Ramon D. Rufino encourages companies to join the awards and be an inspiration:
The winners of the PHILGBC Awards on Leadership in Green Building are not only being recognized for their significant contribution to Green Building and Sustainability but also being promoted as sources of inspiration for our local real estate industry that people and projects can be successful and profitable in both an economic and environmental sense.
The PHILGBC Awards have two categories: Business Leadership in Sustainability Award and Leadership in Sustainable Design and Performance Award.
The Business Leadership in Sustainability Award recognizes companies which are truly integrating sustainability into their business models and contributing to the transition towards a sustainable built environment. These organizations understand that sustainability presents a long-term business opportunity, demonstrate sustainable practices within their internal and external operations, and show sustainability leadership within industry.
The Leadership in Sustainable Design and Performance Award recognizes pioneering green building projects that deliver a range of benefits through a holistic approach to sustainability. These projects go beyond simply minimizing their impact by considering factors that lead to positive outcomes for both the environment and for people. There are three sub categories under this award: residential, commercial and institutional (schools, hospitals, etc.).
By entering, businesses or projects can:
Raise their profile – Finalists and winners of the Awards will be profiled through WorldGBC's global press, social media and other communications activities.
Get in front of the right people - Businesses and projects are judged by a group of renowned and highly influential figures in the green building industry.
Receive recognition – The Awards are a chance to celebrate some of the most progressive businesses and projects in a hugely important region for the future of green building.
Why are the Awards significant?
60 per cent of the world's population (4.3 billion people) live in the Asia Pacific region, with more than 2 billion living in urban areas – a figure that is set to reach 3.3 billion by 2050
Set against this backdrop of growth, creating buildings that are low or zero carbon is essential to ensure a high quality of life for people, minimize negative impacts on the environment, and maximize economic opportunities.
The Awards are the only ones to recognize green building achievements across the whole of the Asia Pacific region. The 2014 Awards were hugely successful, with over 128 nominations from 15 countries in the region.
The PHILGBC Awards are open to all PHILGBC Member companies and green building projects of all sizes. A nominal fee of USD100.00 or PHP4,700.0 (+VAT) per nomination would be collected.
Key dates for the Awards:
Nomination deadline: June 15, 2016, 6:00PM PST
Announcement of Finalists: July 14, 2016
PHILGBC submit nominations to WorldGBC: July 15, 2016
Download the nominations forms:
Leadership in Sustainable Design and Performance Award
Business Leadership in Sustainability Award
This activity is part of the 1st ULI PH – PHILGBC Awards for Excellence in Sustainability and Health.
###
CONTACTS:
Ma. Anna G. Tungol
Executive Director, National Secretariat
agtungol@philgbc.org
PHILGBC National Secretariat
(632) 815 9301
Unit G-4B, Net One Center,
26th Street corner 3rd Avenue,
Crescent Park West,
Bonifacio Global City,
1634, Taguig City,
the Philippines.
For images: Please request from the National Secretariat at secretariat@philgbc.org