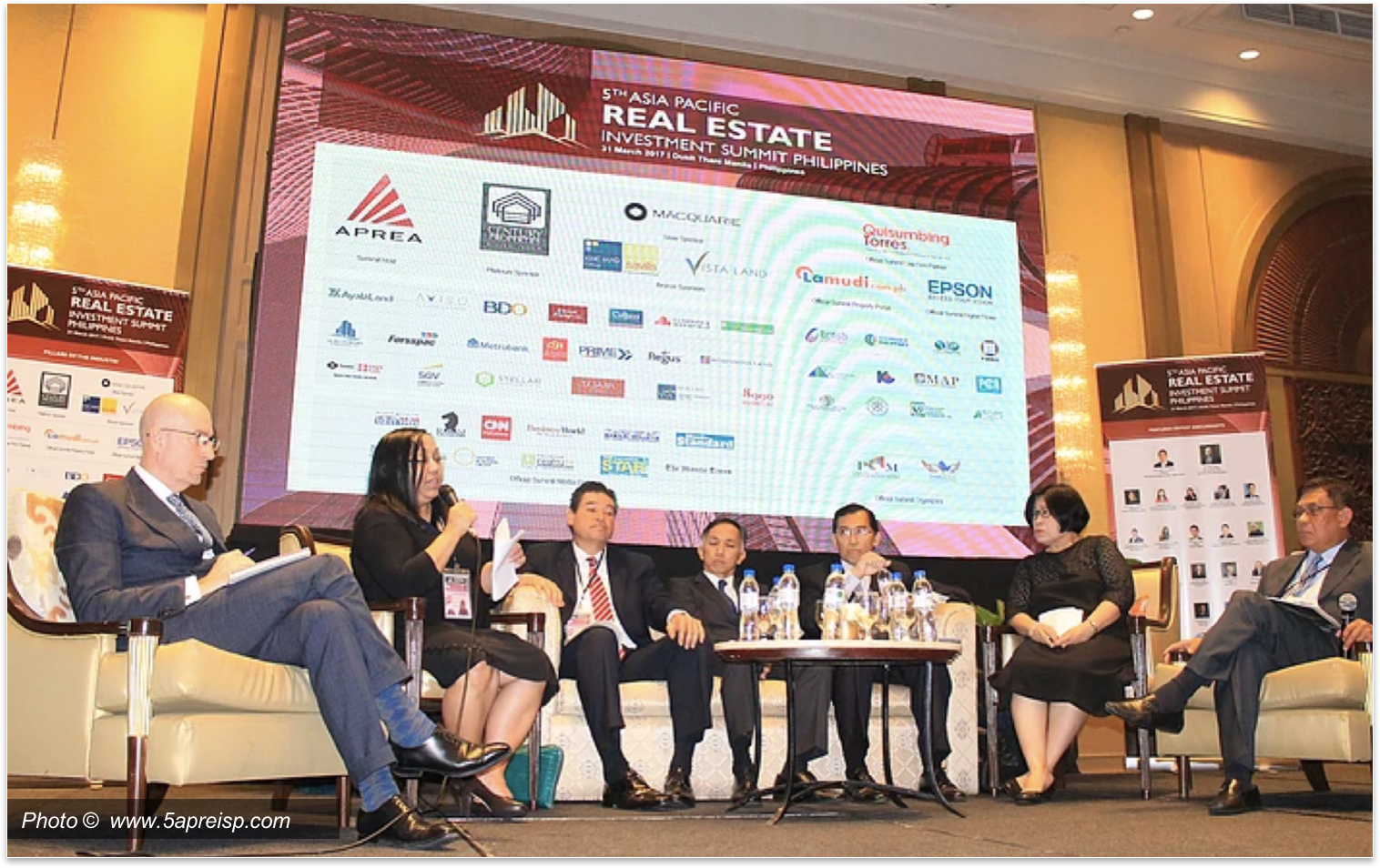 MAKATI CITY, 31 March 2017 – The Asia Pacific Real Estate Association Philippines hosted this year's 5th Asia Pacific Real Estate Investment Summit at the Dusit Thani Hotel, Manila with the theme "Unraveling the New Philippines: Heightened Optimism. Surging Investment."
"The new Philippines is unravelling and continuing exciting growth stories. The economy grew by 6.8% in 2016 and posted the fastest growth in Asia last year. The main economic drivers of growth especially in the final quarter of 2016 were manufacturing, trade, real estate, renting, and business activities and that brings the Philippines as one of the highest recording country registering 60 quarters of uninterrupted growth for the Philippines. We are enjoying a strong vibrant community because of this strong domestic consumption that is sustained by our friends in the BPO industry, our 11million Filipinos abroad who continue to remit money to the country, and the increasing purchasing power of the middle class," said Amb. Jose E.B. Antonio, Chairman of Century Properties Group, and Chairman of the Asia Pacific Real Estate Association Philippines Chapter.
The summit highlighted compelling breakthroughs and issues shaping the market, and deliberated by expert discussants represented by policy and key decision-makers from the public and private sectors. This year's summit gave emphasis on 4 points: Real Estate Investment Trust, Infrastructure Development, Emerging Cities, and Tourism Development.
Among the summit discussants were: Undersecretary Atty. Antonette C. Tionko from the Department of Finance presenting on the Philippine REITs, Undersecretary Dr. Maria Catalina E. Cabral from the Department of Public Works and Highways on Philippine Infrastructure Development, Undersecretary Dr. Adoracion M. Navarro from the National Economic and Development Authority discussing about Philippine Emerging Cities, and Mr. Peter Verwer, CEO of the Asia Pacific Real Estate Association who shared about The State of the Market (Real Estate Industry in the Asia Pacific Region).
Summit proceedings and copies of the presentations are available at http://www.5apreisp.com.
The PHILGBC is one of the industry partners for the 5th Asia Pacific Real Estate Investment Summit Philippines.